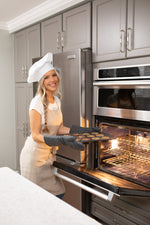 The Story Behind Muffits
MUFFITS offers encouragement to live the lifestyle you deserve, without feeling the need to restrict the enjoyment of tasty food items. MUFFITS is all about choosing a better for you option and makes making the right food choices simple. Nutritious food doesn't have to taste bland or boring, MUFFITS offers a perfect example of this.
Founder, creator, nutritionist, personal trainer, and model, Debbie Schemansky brings a unique skill set and mentality to the table. Native to the suburbs of Detroit, Debbie has been all over the world from Greece to LA pursuing modeling and fitness and noticed a gap in the market for better for you snacks that actually taste good.
Debbie always had a keen interest in baking when growing up, an activity she often enjoyed with her mother, who taught her how to make and prepare delicious baked goods. But with Debbie's love of health, fitness, and nutrition she was always thinking of better ways to make her baking better for you.
Being aware of the high number of additives, sugar, and other chemicals that many products have on our shelves today, Debbie wanted to ensure that MUFFITS used only the highest quality ingredients to be labeled as a clean-label product to be enjoyed by everyone. With MUFFITS, you no longer have to sacrifice taste for health, you can get them both under one delicious product.
An ideal on-the-go snack, breakfast replacement, a pre- or post-workout snack, MUFFITS are an easy and tasty snack to incorporate into your busy, fast-paced lifestyle. At MUFFITS, we stand behind our products 100%. We take pride in our clean, pure, and natural ingredients, and we are passionate about health and fitness without sacrificing pleasure.